Covenant Weekly - May 1, 2018
Covenant Weekly - May 1, 2018
May 1, 2018

Jon Limmer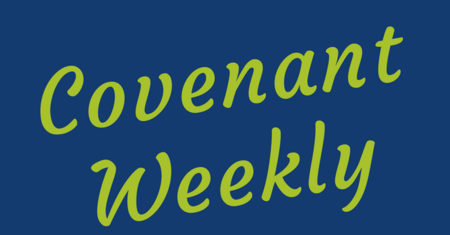 The best-laid plans of mice and men often go awry.
This idea (put forward in his own unique way by Robert Burns in his poem To a Mouse) observes a reality that we all experience from time to time. This week, instead of a reflection, I would like you to consider some plans that have gone awry and to invite you to pray and act as God leads.
Plans Change #1
Over the weekend a family in Midland, who had a daughter attending Burkevale Protestant Separate School in Penetang, had a major fire in their rented home. Our family received the following note from Burkevale with more information:
Thankfully, no one was injured in the fire. The family has lost everything. They have two young girls and are expecting a third child in the coming days. The No Frills in Midland has been set up as a donation location for the family. If you are able to help support the family at this time, donations would be welcome.

Below are a list of sizes:

Mother: Medium pants and shirts, size 7 1/2 shoes (also maternity clothes for the next few weeks)
Father: Size 34 pants, medium to large shirts, size 11 shoes
Girls: Size 3T and 6T, size 9 and 11 shoes (toddlers)
Newborn: Gender unknown, but all the baby necessities are needed
Pet: Cat
Additionally, there is a Go Fund Me page set up for financial support of the family: ca.gofundme.com/donations-for-young-midland-family
Please pray for and support this family as you are able.
Plans Change #2
Last week I announced via e-mail that we had received funding to hire a summer intern. That news came to me via a phone call. Late on Friday, I received the paperwork regarding the funding and I discovered that the news I had previously received was incomplete. We did receive funding, but only about 1/2 of what we had asked for.
As a result, we will not be able to hire a college student for sixteen weeks of the summer. We have funding to hire a student for 8 weeks of the summer and for 30 hours per week. The student must be at least 15 and the position will be focused on helping us offer youth and children ministry throughout the summer.
For details about the updated role description, please go to this page on our website: www.covenantchurch.ca/news/updated-summer-intern-for-youth-children.
Please pray for our summer ministry and for the right person to join us for this ministry opportunity. If you know of someone who would align with our values and may be a good fit to work with us and learn with us, please pass the information along to them.