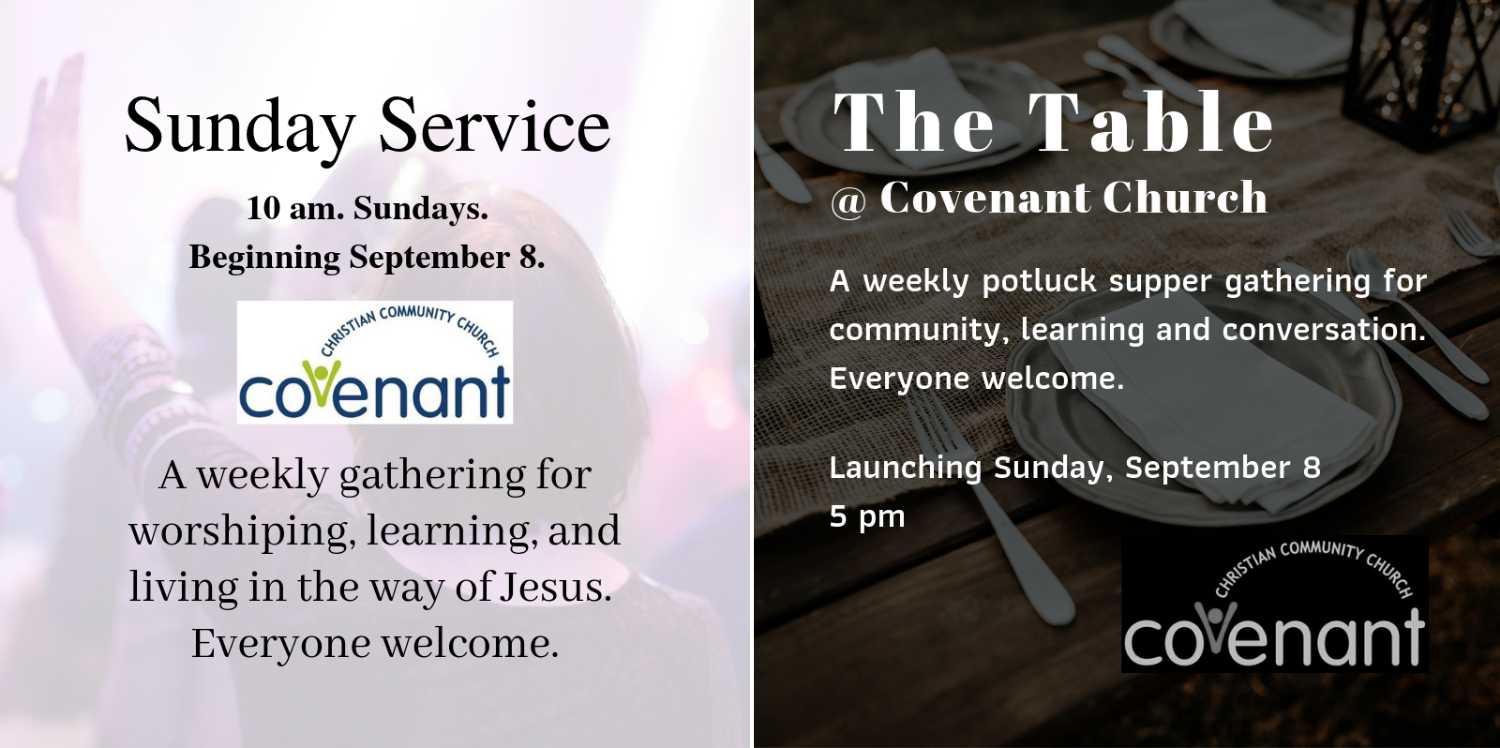 Starting on Sunday, September 8 Covenant will be returning to two gatherings. But this year they will look very different.
Sunday Service: At 10 am on Sunday mornings we will have our Sunday Service. For those who love what we do on Sunday mornings currently, this is the service for you. Having only one gathering on Sunday mornings will help us to get know each other better, welcome newcomers more quickly, and incorporate some different elements into our services.
The Table: At 5 pm on Sunday, September 8, we will be launching what we are calling The Table @ Covenant Church. The Table will be a pot-luck meal and it will be our second weekly gathering. The emphasis will be on participation as we share in a meal together, share simple songs together, pray together, and have an extended time of open conversation following each message.
Those of you who are perfectly happy with our current Sunday morning structure are encouraged to stay as a part of the Sunday Service at 10 am. We trust that it will continue to be a space where you can grow in love for God and others. It is our hope that it will be even better a providing that kind of space.
We are praying for at least 10-20 people to transition from the Sunday Service in order to join us as we launch The Table this fall. Perhaps you feel you might benefit from a gathering where there is a different kind of participation. Maybe you have friends that you would like to invite to join you and to consider the way of Jesus, but they would need a place where they are free to ask their questions without judgment. Or possibly you feel that God is calling you to be a part of creating something new through which new people can be introduced to the way of Jesus. If any of these describes you, we want to invite you to join us at The Table on Sundays at 5 pm starting September 8, 2019.
If you have questions about The Table, please e-mail [email protected]. If you're interested we can arrange for a coffee meeting to discuss what is coming. If you may be interested in being a part of The Table, it would be a huge help if you could click on the link below and give us your name and some contact information. Doing that doesn't commit you to anything. It simply gives us a sense of how many people we may expect as we get closer to September 8 and the beginning of this next chapter in the life of Covenant Church.
I might be interested in being a part of The Table @ Covenant Church!