Covenant Weekly - October 10, 2017
Covenant Weekly - October 10, 2017
October 10, 2017

Jon Limmer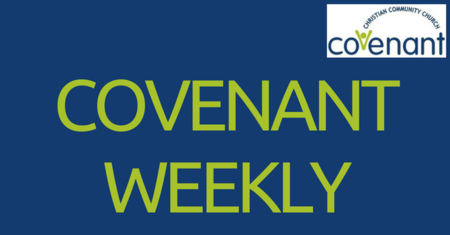 And let us run with perseverance the race marked out for us, fixing our eyes on Jesus, the pioneer and perfecter of faith.
Hebrews 12:1a-2
I had the joy this morning of going to watch my youngest son represent his school in his first competative cross country race. It is interesting to watch different kids as they run. Some kids, like the boy who finished first, are looking ahead and are focused simply on the finish line. Others are running, but find extra motivation when they see their family or friends cheering them on or hear their name called out in encouragement. I watched a few "competitors" who seemed to be there more for the social experience and were running (or walking) with their friends. Still others spent more time looking behind them, more worried about who might be coming up to pass them than they are about pushing themselves forward. Finally there are those who get completely lost and stuck because of the discomfort or pain they feel. It overwhelms them and they give up.
That is so much a metaphor for life. Even the spiritual life. Some of us are motivated by the target, others by applause. Some just want company and others spend their days comparing themselves to others. Others completely stop moving forward because they are completely focused on their pain.
I don't know where you're at today, but can I encourage you with the words of the author of Hebrews. "Keep your eyes on Jesus, the pioneer and perfecter of our faith." He has a joy set out for you that you don't want to miss out on. It is greater than your pain and more important than what others around you are doing. Surround yourself with others on the journey who will help you keep your eyes up and on him. You've got a crowd cheering you on (Heb. 12:1) and a God who is excited to run with you and to embrace you at the finish line!
When I was talking to my son prior to his race today we talked about a goal for him. My encouragement for him was not to aim for a certain time, or a certain place, or to beat a certain person. It was simply to keep running. Keep putting one foot in front of the other keeping an eye on the finish line and to run his race.
I need to take that advice for myself most days. I hope it's helpful encouragement for you. Run your race with your eyes fixed on Jesus. You can do it! Just keep going!
Consider him who endured such opposition from sinners, so that you will not grow weary and lose heart.
Hebrews 12:3