Covenant Weekly - March 13, 2018
Covenant Weekly - March 13, 2018
March 13, 2018

Jon Limmer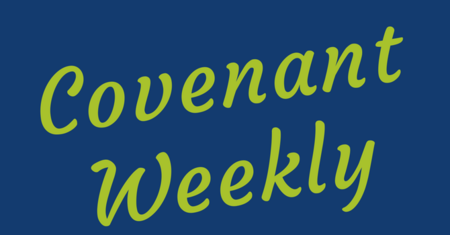 Do you remember when . . .?
Do you remember that time . . .?

That was like when . . ..
When we gather with family or good friends, one of the things we do is reminisce. Shared stories are something that connects people. Shared stories involved shared experience. Entire generations are brought together through common stories. Remembering this part of your story will connect you to many others who remember the same.
Consider the following examples:
Where were you when John F. Kennedy was shot?
Where were you when the Challenger space shuttle exploded?
Where were you when the Berlin Wall came down?
Where were you when Joe Carter hit a walk-off home run to win the World Series for the Blue Jays? ("Touch 'em all, Joe! You'll never hit a bigger home run in your life!")
Where were you when the Twin Towers fell?
Where were you when Sidney Crosby scored Canada's golden goal at the Vancouver Olympics?
These kinds of shared experiences - positive and negative - connect us to each other. They exist on a large scale (like those examples), but also at a small scale - between friends, among families, or in communities.
Within church communities, one of the things that can strongly connect us is shared experiences. Our shared experience on Sundays, yes. But also shared experience in a small group/house church. Shared experience around tables in people's homes as we practice hospitality. Shared experience as we serve together in church programs or in the community. Sometimes we use the simple language of "sharing life together." That sharing of life helps to bond us and even give us a sense of belonging.
I'm thinking about this today because we have our annual Lumberjack Maplefest on Sunday afternoon from 1-4 pm at John & Mary Paillé's property. This is a great time to come together and share an experience together with others in our church family and in our community. Connect over some chili! Bond over some bannock! Associate around some axe throwing!
If it isn't Lumberjack Maplefest, I encourage you to prayerfully consider where and how you can share experience and increase connection with others at Covenant. And if you aren't sure where to begin . . . why not just invite someone over (or out) for coffee or lunch and start there.