Covenant Weekly - January 23, 2018
Covenant Weekly - January 23, 2018
January 23, 2018

Jon Limmer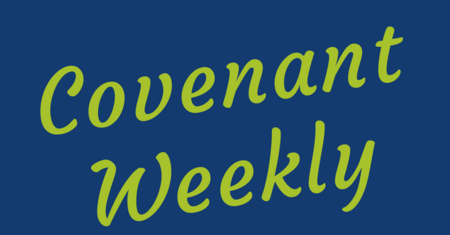 There's a new Google app called Google Arts and Culture. Google Arts and Culture is a digital collection of millions of works of art, video of cultural landmarks around the world, and articles educating and promoting arts and culture.
One of the most fun features of the app is that it lets you take a selfie (for those who aren't aware . . . this is a picture of yourself) and then it compares that picture with characters in artwork from the world and throughout the centuries. After a digital search it shows you who, in art, you look like the most with a percentage match. (Apparently, I'm a 62% match of the bearded man from Wapping, London in this picture www.nga.gov/Collection/art-object-page.61254.html.)
Looking at this got me thinking . . . who do people think of when they look at me. I certainly have people tell me that I look like my father. When I showed a picture of my maternal grandfather in a service a few weeks ago I had several Covenant people tell me I look like him.
But I'm thinking deeper than just what I look like. I don't mean when they just see me. But when they watch me and observe me. Who do I remind them of?
Paul the apostle encourages us to consciously think about who we look like in our actions and he points to the model for us to emulate.
In your relationships with one another, have the same mindset as Christ Jesus. (Phil. 2:5)
As disciples of Jesus, we are invited to live like Jesus. This doesn't mean how we cut our hair and the clothes we wear. It is about how we live in relationship with each other showing love, humility, and care for others. And as we embody this Jesus way of living, we are to invite others to follow it along with us. Paul even went so far as to invite people to follow him because he was confident that in following Paul, they would become more like Jesus!
As I observe the world around me there are a lot of pastors I can benefit from. There are a lot of theologians I can gain knowledge from. There are a lot of husbands and fathers who have great lessons to teach me. But as a Christian, my desire is not that people would watch me and say, "Oh . . . you obviously listen to a lot of [insert pastor's name here]; or you obviously studied under [insert theologians name here]; or you've sat with [insert model father and husband here] and learned from him.
My desire (and my desire for each of us) is that we would learn to truly live like Jesus. I pray that we will never be divided over "who" we are following (like the church in Corinth), but rather that we would together embody the way of Jesus - even when we disagree on some details about how his way gets played out in our world. And I pray that as we follow him people will look at us and be compelled by our love to figure out who it is we look like. And the only answer will be Jesus.
But there's no app for that.