Covenant Weekly - April 3, 2018
Covenant Weekly - April 3, 2018
April 3, 2018

Jon Limmer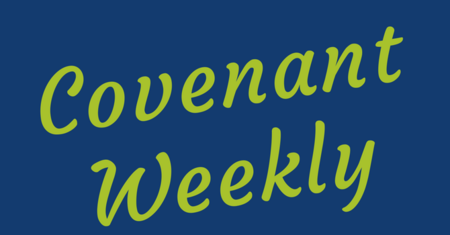 For several weeks our Covenant staff team has been studying through a book together called, God In My Everything. This book helps us think about being healthy and whole people by paying attention to various aspects of life in which God wants us to thrive. The chapter we discussed today is called, "Play Like a Child." In it, Ken Shigematsu invites us to consider play as a part of our reflection of God.
We read in the book of Ecclesiastes that God ordains times to play: There is "a time to weep and a time to laugh, a time to mourn and a time to dance." The Lord promised Israel that when he returned to bless Jerusalem, a sign of that blessing would be that the streets would be filled with boys and girls playing. When we play, we mirror our God, a God who plays.
Play (which Shigematsu defines as doing something for its own sake) invites us to delight in a moment, activity, event, or person in that moment with no greater agenda. For each of us, what we enjoy as play, might look different.
Many enjoy reading as a play activity. Others enjoy running or riding their bike. Personally, I enjoy team sports competition and enjoying well-told stories (whether on screen, on stage, or in print). Some people feel that sense of play when they paint or write or build. Others when they cook. (Some others, when we eat!) What is play for one person might be work for another, but play tends to be something that when we do it, we find a measure of joy and deep satisfaction - even refreshment.
As I think about this idea of play, I can't help but think of an article in the Toronto Star this past Tuesday. Janet Tremble (one of our deacons) and her husband Bob, were featured in the Wheels section of the paper. Bob submitted a piece about their restoration of a 1970 Lotus Europa 2. In it, he describes how they had restored some cars in the past, but over the last couple of years, this has been their project. Why? Because this is the car they rented for their honeymoon in 1970. This has been a project of enjoyment and passion. Even though it has involved work, it is also been playing. And now that it is done they get to play even more during the summer as they travel around in a beautiful car enjoying so many beautiful places and people God has blessed us with. (See the full article here: https://www.thestar.com/autos/2018/03/29/eye-candy-1970-lotus-europa-s2.html)
As you go through this day and this week, please consider these questions:
As a child, what was your favourite way to play?
Today . . . what is something you enjoy doing for its own sake?
How will you intentionally build in wonderful, enjoyable time to play like a child into your life?